
Non-Sport Cards

 

Warhammer 40,000 Core Book

Warhammer 40,000 Core Book

Vendor: Games Workshop

Product Type : Miniatures - 40k Rulebook

Hurry! Only

2

units left in stock!

There is no time for peace. No forgiveness. No respite. There is only war.

The galaxy writhes in the mailed fist of all-consuming conflict. The Imperium of Mankind teeters on the brink of annihilation, beset upon all sides by heretic warlords, daemon-summoning witches and rapacious alien empires. In every star system and upon every planet, fierce battle rages as loyalists, heretics and aliens tear reality itself apart in their war for dominance. Every day the flames rise higher.

This is a more terrible era than ever before, and there is no peace amongst the stars...

The Book
A 368-page hardback, this is the essential book for any fan of Warhammer 40,000 – everything you need to know to collect, build, paint and play with Citadel miniatures.

It starts with an overview of the Warhammer 40,000 hobby, covering the four areas of Collect, Built, Paint and Play, including descriptions of open, matched, and narrative play.

Dark Imperium
In the first of the book's huge lore sections, you can read all about the state of the galaxy after the Cicatrix Maledictum – the Great Rift – tore open across the galaxy, dividing the Imperium in two. Humanity faces its greatest challenge in more than ten millennia as the forces of Chaos run rampant across the reeling Imperium even as alien warlords seek to take advantage of the untold devastation wrought upon the Emperor's realm.

A gatefold also includes an ornate depiction of the planets and the Sol System, as well as a map of the entire galaxy, calling out key war zones so you can see where the action hot spots are currently situated. Dark Imperium continues by covering in brief the Imperium's military wings, its bureaucratic institutions and even its other, more clandestine organisations…

As you read on, you'll learn more about the constant flux of the Imperium's borders and gain insight into the Imperial Creed's attitude towards abhumans, psykers and, worst of all, mutants and heretics!

Lastly, Dark Imperium provides a brief overview of the four Dark Gods of Chaos – including their immortal daemonic legions, sycophantic followers and dread mortal champions – as an ever-present threat to the Imperium.

The Saga Imperialis
Upon delving into the next part of the lore, you'll enjoy a high-level overview of the history of Mankind, from its very beginnings, through the early Ages of Terra and Technology, the Ages of Strife and Darkness, all the way up to the Age of the Imperium in the aftermath of the Horus Heresy. It continues to reveal the events of the Age of the Dark Imperium and the Gathering Storm in the time before the Great Rift tore open – and the Age of Witches that followed during the Psychic Awakening. Finally, it lays the foundations of the Indomitus Crusade, following the reborn Primarch Roboute Guilliman's visitation with his father, the Emperor, on Holy Terra.

As you continue, you'll glean insights into the Imperium's stance against the Alien – covering the Orks, the T'au Empire, the Aeldari, the Necrons and the extragalactic Tyranids – the Daemon and the Heretic.

Bringing this section to a close are four short pieces of fiction, which bring the grim reality of the Era Indomitus to life in incredible detail.

The Warriors of the Emperor, The Lost and The Damned and Xenos Invaders
These sections cover every faction in Warhammer 40,000 and will offer you an in-depth understanding of each one, the threat they pose and their place in the galaxy. There is also a stunning miniatures showcase for each faction, depicting them as they would appear in battle and with narrative descriptions.

The Rules
The first section of the core rules covers the basic rules of the game, and takes you through the rules that apply to the seven phases of the game: the Command phase, Movement phase, Psychic phase, Shooting phase, Charge phase, Combat phase and Morale phase.

Additional rules also cover:

- Playing missions and the process of building an army in readiness, using either Power Rating or points values
- Battle-forged and Unbound armies, as well Command points that Battle-forged Armies can utilise
- Battlefield Roles and 11 types of Detachment that can be included in your armies
- Seven Core Stratagems that are universal and available to every army in Warhammer 40,000
- Strategic Reserves – the option to hold back units during deployment and even send them to outflank the enemy line
- Actions – such as planting explosives, hacking into a databank, or performing a ritual – and how they can be performed (and in some cases, prevented)
- Rules for terrain features, such as Hills, Obstacles, Area Terrain and Buildings, including traits the terrain might have and its impact on the battlefield
- Hints and tips for setting up a suitable battlefield, in terms of density and type of terrain, type of terrain, and ensuring that neither side of the battlefield is preferential to the other

Open Play
Let your imagination run wild, as open play caters for reenacting every kind of narrative storyline or tactical challenge you can think of, without restrictions. This section centres around the Open Hostility Mission Pack – a 12-step guide to setting up and playing an open play game through to a conclusion and determining a victor. Includes the following:

- Guidance on mustering armies, determining missions, creating the battlefield and a host of other key points to playing a game
- Three bespoke open play missions

Matched Play
Designed to put both players on an equal footing, matched play offers both players an even chance of victory, leaving it to your own mastery of army selection and tactics to earn you the advantage in battle. This section features an Eternal War Mission Pack – a 16-step guide to setting up and playing a matched play game through to a conclusion and determining a victor. Includes the following:
- Guidance on selecting battle size, mustering armies, determining missions, creating the battlefield, selecting Secondary Objectives and a host of other key points to playing a game
- 18 bespoke matched play missions, each specifically designed around the size of the game being played: three for Combat Patrol, six for Incursion, six for Strike Force, three for Onslaught
- Secondary Objectives, featuring a list of 17 different Secondary Objectives that players can choose from, split over five separate categories

Narrative Play
Crusade is a new way to play games of Warhammer 40,000. It allows you to take a collection of miniatures and, taking them on a Crusade, level up your units over any number of games, against any number of opponents, forging your own narrative for your miniatures collection as they engage with their enemies on the battlefields of the 41st Millenium. Over your Crusade games, will you be able to grow your army, gain experience and skills, and modify your weaponry. Though you may start off with a small band of inexperienced warriors, you can create an elite fighting force that is renowned and feared across the galaxy!

Includes the following:

- How to gather a Crusade force, and how it gains experience and levels up over its series of games
- A balancing mechanic to allow for any two Crusade forces, from the greenest band of soldiers to the most legendary squad of battle brothers to be able to play an evenly matched game of Warhammer 40,000
- Blank, photocopiable Crusade Cards and Order of Battle sheet for keeping track of your forces.
- Four tables of Battle Honours – Battle Traits, Weapon Enhancements, Psychic Fortitudes and Crusade Relics – each offering different in-game bonuses and effects that the unit has earned through numerous hard-fought battles
- A Battle Scars table for those units who fail to emerge from their battles unscathed…
- Guidance on setting up and playing a Crusade narrative play game through to a conclusion, determining a victor, and updating your Crusade Cards and Order of Battle
- A list of 17 different Agendas that players can choose from, split over five separate categories.
- 18 bespoke Crusade missions, each specifically designed around the size of the game being played: three for Combat Patrol, six for Incursion, six for Strike Force, three for Onslaught.

Rules Appendix
A handy reference section that includes the following:

- Designer's Commentary from rules designer Robin Cruddace
- An alphabetised list of 174 existing weapons that gain the benefit of the Blast special rule
- An alphabetised list of 22 existing miniatures/datasheets that gain the Aircraft keyword
- A summary synopsis of 14 rarer rules/interactions that don't often arise in games, but are important to keep a note of
- A Rules Terms Glossary, which provides precise and exacting definitions of 142 separate rules terms to aid in resolving more complex rules interactions

We have a 14-day return policy, which means you have 14 days after receiving your item to request a return. On prepaid pre-orders, you have 14 days after placing your order to request a cancelation which may be subjected to restocking fees (see below). Pre-orders are NOT refundable. See Exceptions below.

To be eligible for a return, your item must be in the same condition that you received it, factory sealed product must be returned factory sealed. You'll also need the receipt, packing slip or proof of purchase.

To start a return, you can contact us at info@digitalheroes.com. If your return is accepted, we'll send you a return shipping label, as well as instructions on how and where to send your package. Items sent back to us without first requesting a return will not be accepted. Buyers may be responsible for return shipping which will be deducted from their refund.

You can always contact us for any return question at info@digitalheroes.com.

Damages and issues
Please inspect your order upon reception and contact us immediately if the item is defective, damaged or if you receive the wrong item, so that we can evaluate the issue and make it right. Please note that we keep video footage of every item that gets packed and shipped specifically so we can go back and check for errors and problems on our end.

Exceptions / non-returnable items
Certain types of items cannot be returned, like opened card packs or boxes. Books removed from their shrink wrap or any item that is no longer factory sealed or removed from its original packaging. Pre-ordered items. Professionally graded items, like CGC comics or BGS and PSA cards cannot be returned. Certain products with volatile pricing may not be returnable or subjected to additional restocking fees that reflect current market price. Please get in touch if you have questions or concerns about a specific item.

Unfortunately, we cannot accept returns on sale items or gift cards.


Restocking Fees
Because our payment processors assess non-refundable fees, we must pass those fees along to anyone requesting a refund for any reason. These fees may be up to 25% of the purchase price of the item depending on the item and reason for the return. Restocking fees may be waived or reduced on insured items that were determined to have been damaged by the shipping carrier. All restocking fees will be assessed and applied on a case by case basis.



Exchanges
The fastest way to ensure you get what you want is to return the item you have, and once the return is accepted, make a separate purchase for the new item.

Refunds
We will notify you once we've received and inspected your return, and let you know if the refund was approved or not. If approved, you'll be automatically refunded on your original payment method. Please remember it can take some time for your bank or credit card company to process and post the refund too. Rejected refunds will be returned to the buyer at their cost.
top
Added To Cart :
Add To Cart Failed :
prouduct successfully added to wishlist !
Digital Grading Guide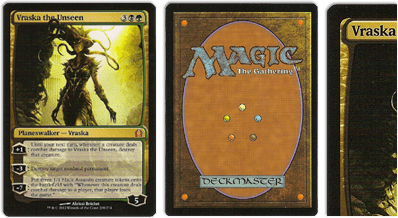 '
Near Mint (NM)'
Near Mint condition cards show minimal or no wear from play or handling and will have an unmarked surface, crisp corners, and otherwise pristine edges outside of minimal handling. Near Mint condition cards appear 'fresh out of the pack,' with edges and surfaces virtually free from all flaws. '
'
'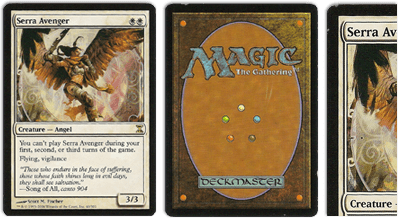 '
Lightly Played (LP)'
Lightly Played condition cards can have slight border or corner wear, or possibly minor scratches. No major defects are present, and there are less than 4 total flaws on the card. Lightly Played condition foils may have slight fading or indications of wear on the card face. '
'
'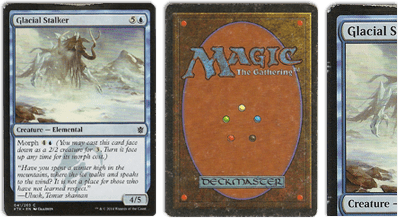 '
Moderately Played (MP)'
Moderately Played condition cards have moderate wear, or flaws apparent to the naked eye. Moderately Played condition cards can show moderate border wear, mild corner wear, water damage, scratches , creases or fading, light dirt buildup, or any combination of these defects. '
'
'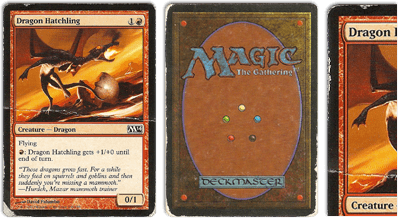 '
Heavily Played (HP)'
Heavily Played condition cards exhibit signs of heavy wear. Heavily Played condition cards may include cards that have significant creasing, folding, severe water damage, heavy whitening, heavy border wear, and /or tearing. '
'
'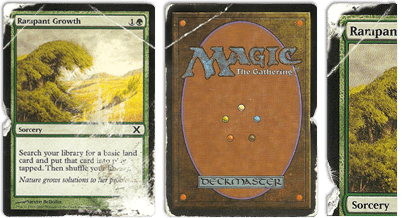 '
Damaged (D)'
Damaged condition cards show obvious tears, bends, or creases that could make the card illegal for tournament play, even when sleeved. Damaged condition cards have massive border wear, possible writing or major inking (ex. white-bordered cards with black-markered front borders), massive corner wear, prevalent scratching, folds, creases or tears. '
'
'
'