Help Wanted
We are NOT hiring at this time!
Digital Heroes is not actively seeking employees at this time, but if you are qualified and wish to leave us a letter of interest and resume we will keep it on file for 6 months. 
Employee must have knowledge about comic books and/or sports cards! 
This includes the ability to correctly identify, accurately grade and price comics or trading cards in the current online marketplace. Additional gaming & pop culture collectible experience is a plus.
Employee must be at least 18 years of age and hold valid state/federal issued photo identification and social security card.
Potential employees may be required to pass a background check, credit check and/or drug testing before a position is offered.
Interested candidates must submit a resume with 3 references along with a letter of interest addressing the following questions:
Which position are you applying for, how are you qualified and why do you want to work for Digital Heroes?
What unique skills or perspectives can you bring to the DH team that will help strengthen our overall business?
Employee must have knowledge and experience in one or more of the following areas: Comics, Cards, Games, Toys. Please share about your experiences using, selling or collecting the products we sell.
Employee must have basic computer skills with Microsoft Office and web searching/browsing. Data entry is a large part of this job. Digital Heroes uses MS Word, Excel and Access. Web and database programming are a plus. Please describe any experience you may have in this area.
Please describe any additional skill, experience or information not detailed above that you believe would benefit Digital Heroes if we were to add you to our team.
Please include any additional skills or experience you may have in the following areas not detailed above:
Grading and pricing cards, comics or other collectibles.
Using a cash register and/or POS system.
Photoshop, scanning and editing images.
Buying and/or selling items on eBay, Amazon, TCGPlayer and other sites.
Social media: Twitter, Facebook, Instagram, etc. Which sites do you use?
Streaming video (YouTube, Facebook Live, etc.)
Please submit all materials to jeff@digitalheroes.com. This position will remain open until filled.

The first round of interviews will begin the week of 9/12/2022.
top
Added To Cart :
Add To Cart Failed :
prouduct successfully added to wishlist !
Digital Grading Guide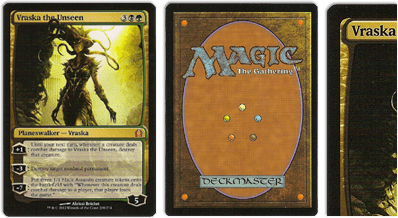 '
Near Mint (NM)'
Near Mint condition cards show minimal or no wear from play or handling and will have an unmarked surface, crisp corners, and otherwise pristine edges outside of minimal handling. Near Mint condition cards appear 'fresh out of the pack,' with edges and surfaces virtually free from all flaws. '
'
'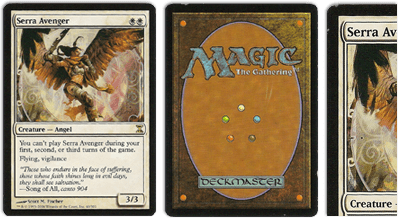 '
Lightly Played (LP)'
Lightly Played condition cards can have slight border or corner wear, or possibly minor scratches. No major defects are present, and there are less than 4 total flaws on the card. Lightly Played condition foils may have slight fading or indications of wear on the card face. '
'
'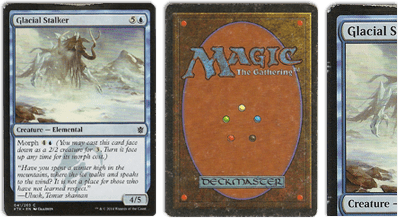 '
Moderately Played (MP)'
Moderately Played condition cards have moderate wear, or flaws apparent to the naked eye. Moderately Played condition cards can show moderate border wear, mild corner wear, water damage, scratches , creases or fading, light dirt buildup, or any combination of these defects. '
'
'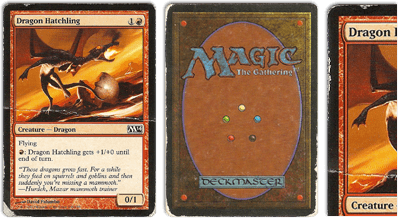 '
Heavily Played (HP)'
Heavily Played condition cards exhibit signs of heavy wear. Heavily Played condition cards may include cards that have significant creasing, folding, severe water damage, heavy whitening, heavy border wear, and /or tearing. '
'
'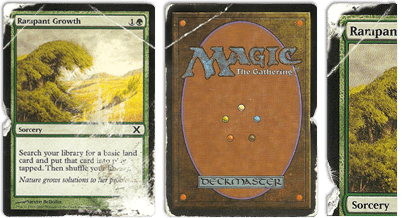 '
Damaged (D)'
Damaged condition cards show obvious tears, bends, or creases that could make the card illegal for tournament play, even when sleeved. Damaged condition cards have massive border wear, possible writing or major inking (ex. white-bordered cards with black-markered front borders), massive corner wear, prevalent scratching, folds, creases or tears. '
'
'
'