translation missing: en.sections.collection_template.product_count
BATMAN #114 CVR A JORGE JIMENEZ (FEAR STATE)

Batman is racing against time to stop Gotham City from tearing itself apart as the Scarecrow's long game is revealed. The Dark Knight has bigger problems though, as an insane Peacekeeper-01 is on a...

BATMAN #112 CVR A JORGE JIMENEZ (FEAR STATE)

A story over a year in the making and set into motion with Infinite Frontier #0, Fear State begins! Batman played into the hands of the Scarecrow, who has unleashed a coordinated attack on Gotham C...

DETECTIVE COMICS #1043 CVR A DAN MORA (FEAR STATE)

Fear State grips Gotham City! When Mayor Nakano's city hall office finds itself under siege, the only hero who can help the embattled local official is the man Nakano pledged to rid from Gotham: Ba...

Detective Comics #1051 Cover A Irvin Rodriguez

Psycho-Pirate! Qu est-ce que c est? The mind manipulations of one of the DCU s most calamitous villains are revealed at the heart of Arkham Tower but who s really calling the shots? As Ba...

BATMAN #117 CVR A JORGE JIMENEZ (FEAR STATE)

As the full scope of the Scarecrow's plans is revealed, a bloodied Dark Knight fights for his life, and all the lives in Gotham City, against an unrelenting, unstoppable opponent. The shocking conc...

//cdn.shopify.com/s/files/1/0510/3052/4074/products/0621DC002_973774fd-6c13-4f85-885c-6afb785909f8_771x1000.jpg?v=1631479030

DETECTIVE COMICS #1042 CVR A DAN MORA

Batman rampages through the underworld of Gotham! Driven to a violent madness courtesy of the Jury's Vile serum, the Dark Knight crushes bones, makes a scene, and gives costumed vigilantes in Gotha...

BATMAN #105 CVR A JORGE JIMENEZ

Batman battles Ghost-Maker in the no-holds-barred, bloody conclusion of this epic tale…winner take Gotham City! And the outcome is not what you're expecting! The future of Gotham City and the fate ...

BATMAN #104 CVR A JORGE JIMENEZ

Ghost-Maker is living up to his spectral name as Batman scours Gotham City for any trace of him…but this deadly new vigilante is going to prove a bloody point to the Dark Knight by murdering both C...

Robins #6 (Of 6) Cover A Baldemar Rivas

The games are over and Jenny Wren s traps have finally sprung around the Robins! Can the teen wonders unravel the truth behind Jenny s connections to Batman, or will the true first Robin finall...

Detective Comics #1053 Cover A Irvin Rodriguez

War in the streets! As Dr. Wear desperately tries to keep his plans for Arkham Tower from crumbling, a major drug deal gone bad puts the nervous doc in the sights of both the Party Crashers and the...
top
Added To Cart :
Add To Cart Failed :
prouduct successfully added to wishlist !
Digital Grading Guide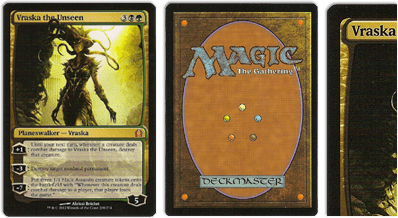 '
Near Mint (NM)'
Near Mint condition cards show minimal or no wear from play or handling and will have an unmarked surface, crisp corners, and otherwise pristine edges outside of minimal handling. Near Mint condition cards appear 'fresh out of the pack,' with edges and surfaces virtually free from all flaws. '
'
'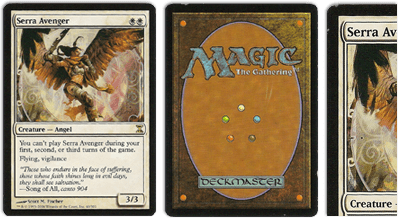 '
Lightly Played (LP)'
Lightly Played condition cards can have slight border or corner wear, or possibly minor scratches. No major defects are present, and there are less than 4 total flaws on the card. Lightly Played condition foils may have slight fading or indications of wear on the card face. '
'
'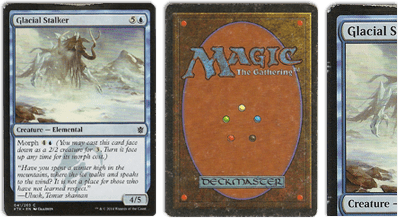 '
Moderately Played (MP)'
Moderately Played condition cards have moderate wear, or flaws apparent to the naked eye. Moderately Played condition cards can show moderate border wear, mild corner wear, water damage, scratches , creases or fading, light dirt buildup, or any combination of these defects. '
'
'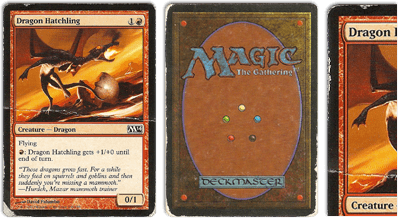 '
Heavily Played (HP)'
Heavily Played condition cards exhibit signs of heavy wear. Heavily Played condition cards may include cards that have significant creasing, folding, severe water damage, heavy whitening, heavy border wear, and /or tearing. '
'
'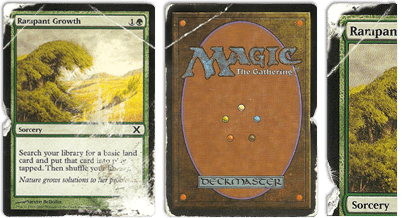 '
Damaged (D)'
Damaged condition cards show obvious tears, bends, or creases that could make the card illegal for tournament play, even when sleeved. Damaged condition cards have massive border wear, possible writing or major inking (ex. white-bordered cards with black-markered front borders), massive corner wear, prevalent scratching, folds, creases or tears. '
'
'
'